This one's a little sappy, but it's sincere.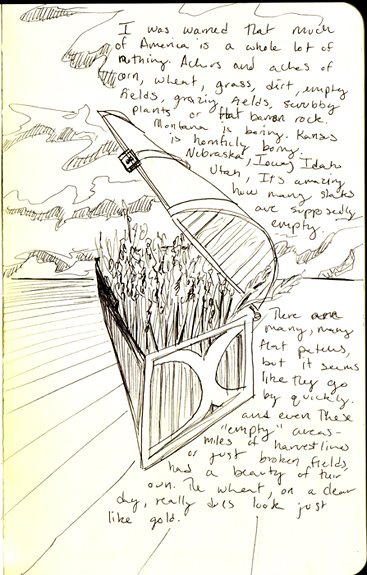 "I was warned that much of America is a whole lot of corn, wheat, grass, dirt, empty fields, grazing fields, scrubby plants or flat barren rock. Montana is boring. Kansas is horrifically boring. Nebraska, Iowa, Idaho, Utah, it's amazing how many states are supposedly empty. There are many, many flat patches, but it seems like they go by quickly. And even these 'empty' areas- miles of harvest lines or just broken fie4lds, had a beauty of their own. The wheat, on a clear day, really does look just like gold."

Traveling by train is the way to see the country. When you drive you're distracted by being stuck in this little car, and when you fly all you can see is pastel squares, but when you take the train... you have the freedom to relax and just look.