Here's page 3. For blogging this is probably a better way to orient the page, but not so much for journaling. You can click on the page for a bigger image.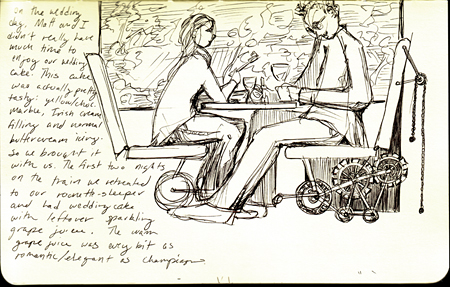 "On the wedding day, Matt and I didn't really have much time to enjoy our wedding cake. This cake was actually pretty tasty: yellow/choc. marble, Irish cream filling and normal buttercream icing. So we brought it with us. The first two nights on the train we retreated to our roomette-sleeper and had wedding cake with leftover sparkling grape juice. The warm grape juice was every bit as romantic/elegant as champagne."

I had some fun drawing the underside of Matt's seat, though I should mention that I'm sure the real underside looks nothing like that. The cake came from Create a Cake in Lakewood, and it was really yummy (and pretty) so I'm glad we got to take some with us. The charm of the cake started to fade by the forth day, but I finished it up on my own because throwing it away seemed like bad luck. It didn't make me sick, so I guess buttercream doesn't go bad, either that or I just got lucky.