I took today's drawing from various photos on Kim's garden site.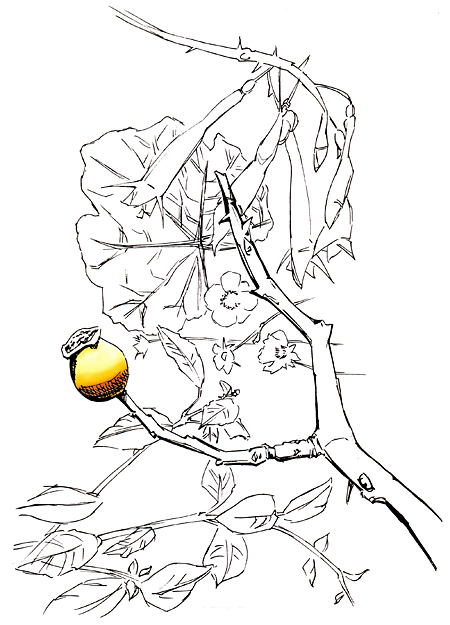 It's hard to tell these are flowers I guess since I'm just using line and no value, but line is quite fun for me and I haven't had much time to play with it lately so this was a nice exercise. I'd forgotten how much I enjoyed drawing flowers, I was wanting to draw something organic but uncomplicated (and flowers believe it or not are surprisingly simple when compared to other plant life). Here are some flower drawings I did years ago when I was in a product design class (Industrial Design) which I unfortunately dropped because I was an idiot.

I'm not sure what kind of pen this is, since I'm fairly certain it's before I discovered microns but it's obviously got a very fine point. I'm thinking it might have been one of the decorative roller point pens I loved when I was younger, with a .01 point.
I loved doing this drawing, and ended up using the eye-like buds for a creature drawing a few years later. I might post that some later day if I can find it in my old sketch books.

This one is kind of loose, which I think is the charm.
My favorite part of this drawing is the joint on the bottom twig. I also think the energy of the bouncy leaves is a lot of fun.

Those drawings were taken from a sketchbook assignment under John Caruso, I'd guess in 2001 or 2002. Frighteningly, they're all more effective than the drawing I just did today (though it's hard to tell at this size and with scanner problems), which makes me think I need FAR more practice...